Post by Fiction Plane Info Center on Feb 28, 2009 3:07:43 GMT -5
Here is an extensive play-by-play of the evening, courtesy of Mark Morton.
[Photos by Michelle Bleile]
For those who have never been there, Arlene's Grocery is a bar / concert venue in the heart of New York City's Lower East Side. It is surrounded by pizza joints, hair salons, and about a million ATM machines. When you walk in to the dimly lit building, the bar is directly to the right, and there is a spacious lounge straight back. In the lounge is the backstage door to the concert venue.
The performance room is directly inside to the left of the entrance, to the right, through yet another door. It is kinda like Dungeons & Dragons maneuvering through this place. In fact, the restrooms were hidden away in the basement, down two flights of steps, directly beneath the concert room. I've often wondered what the rationale was for placing a restroom in any bar-like atmosphere where the rest-ee must descend two flights of steps in order to relieve himself/herself. To me, alcohol and stairs make the perfect recipe for disaster.
The concert room is rather spacious, holding 200-300 people. It actually reminded me a little of Doctor Who's T.A.R.D.I.S., because Arlene's truly looks much bigger on the inside. There is another bar in here, with a raised soundboard in the rear of the room. The stage at the opposite end of the room is about three feet off the ground and makes for perfect visibility regardless of where you are standing (patrons's heights notwithstanding).
Once doors opened, the majority of people inside the bar area made a rather quick exodus and filled the concert room in a matter of minutes. I tucked myself over in a corner in the rear of the room to take in everything. Shortly thereafter, the lights dimmed, and the three men of the evening took the stage. Seton was donning his GI Joe "Cobra Commander" t-shirt he acquired shortly before the Mt. Adams festival in Cincinnati last summer, Joe (with oddly feminine-looking long hair) wore his patented Postal Service work shirt, and Pete had on one of those self-promoting Fiction Plane shirts with the phonograph on the back, which always seems to pop up on
www.ebay.co.uk
.
While they are powering up and strapping on their gear, I glanced to my right and noticed Pete's wife Kathy stroll up to watch the show right next to me, holding baby Ethan in a sort of open, front-facing backpack/papoose-looking thing. Ethan was wearing really big headphones (which made him look like the kid on the cover of
EVERYTHING WILL NEVER BE OK
) and he was sound asleep.
Once set, Joe shouts, "Everybody's here! We're going to play some songs that are so new; we don't even know what they're like. So you'd better remind us when we play them, alright? Get ready to be the fifth member of this three-piece band!"(I know, Joe rarely makes any sense when he's working the crowd. It's like trying to analyze Duran Duran lyrics.) Then, the band launches into one of the most interesting 45-minute sets that I have ever seen.
Here is the track-by-track analysis:
1.
Telephone Unknown
– An incredible opener. It has a bouncy, almost disco-like beat (but not in a bad way). It was probably the best FP opener they have used since the days of "Listen To My Babe". It has a very ear-wormy chorus that does not leave you. It reminds me a little of ABBA's "Money Money Money" (again, not in a bad way). It has a sinister, "Somebody's Watching Me" vibe to it. VERY catchy.
2.
Humanoid
- The song starts with a rolling Pete intro, and then plunges into a very driving rhythm, which sounds like it is emulating the hustle and bustle of big city life. It has a very familiar vibe to it – almost as if it was culled from previous unused FP demo material. It reminds me of a fast-tempo Coldplay track, with a very heavy, rock guitar break. Seton shines on this one with extensive use of guitar effects and varied riffing.
3.
Denied
- This one is a little bit of a speed bump in the show, because the tempo from the ""Humanoid" grinds to a screeching halt. Joe intros this one with, "It's…ah…uh…a song?" It has a ballad-like feel, almost reminiscent of "Fake Light from the Sun" or the shoe-gazing side of Smashing Pumpkins (which is funny, because the guys make no bones about their distaste for shoe-gazing). It is a very relaxed track that sounds like it was actually written around the time of
BITTER FORCES AND LAME RACE HORSES
. But it was very odd to put it in the third position.
4.
Put On Your Shoes
– There is no break between songs, which is how this one usually starts. This is probably the tightest, most focused performance of this song I have ever heard. The crowd went nuts for it, and the whole floor was moving. It is a very high-energy performance. Of the "classics", this one is most in line with FP's current direction.
5.
Sadr City Blues
– You know it, you love it, and you can't really have "Put on Your Shoes" without it! Of course, the crowd continued its excitement and was singing along to this one. SCB is always a crowd-pleaser, and Pete's backing vocals really "shine on" this one. Oddly, though, as popular as this song is with fans, it is probably the furthest, of the unreleased tracks from how the band is evolving.
6.
Zero
– This one really commands attention. The guitar intro sounds like a pipe organ, then Pete kicks in with a tasty bossa nova beat. The vocal line bears a sentimental resemblance to classic alternative music like The Cure or Pixies. It is very moody and slower tempo, but it is more audience-friendly than "Denied". It is a rather interesting song, because it juxtaposes romance with depression. Of the new tracks, most fans walked away from the show citing this one as their favorite.
7.
Contagious
– After "Zero", Joe grabs the mic and says, "LSD from Russia", and we are introduced to "Contagious", which is an even slower tempo than its predecessor. This one is difficult to latch onto, because there is no defined hook. It has a loose arrangement that centers on a dirge-like, funeral march beat and droning, almost dreamlike backing vocals. This one is probably the most incomplete of the demoed cuts.
8.
Cut the Brake
– Like a shot of adrenaline, "Cut the Brake" is always a fan favorite, with its funk-tacular rhythm, post-mosh breaks, and mischievously cheerful vocals. I've noticed that the band plays this song distinctly differently in America than it does in Europe. The American version is much bolder, more groove-based, and heavier, while the European rendition plays like a fist-pumping, rock anthem. I could very easily see them opening a set with this one someday.
9.
Two Sisters
– The grand-daddy of the set, and incidentally, the only one recorded specifically for an album ("Shoes" doesn't count, because it was merely a recorded jam session). Joe says, "You guys have been f***ing fantastic. Some of you came from as far as we have, which was down the street." Pete builds up the excitement for the song with an extended rolling drum intro, then Seton rips into that beloved reggae-licious riff, and Joe pays homage to Snoop Dogg by shouting "Bow wow wow, yippee yo, yippee yea!" His voice spent, Joe actually talks most of the lyrics. (He later confessed that he strained his voice three days prior in rehearsals, and he hadn't quite recovered. I'm sure the teeter-tottering weather didn't help, either.) The audience didn't mind at all. Seton's solo was VERY strong here. During the sing-along part, the audience jumped in with "I'm in luuuhh—uuh uhve" before Joe could prompt them.
Needless to say, the energy level was very high at the end of the show. I felt immediately when the band took the stage that there was a different aura about them, like they weren't working, but literally engaging in something they loved doing. They seemed like they were making a statement to their identity as a band – this is who they are, this is how they sound, and if you don't like it, the bar is just over there.
During the aftershow, Joe was immediately mobbed by the usual flock, Pete was bouncing around the room, and Seton somehow managed to grab a comfortable spot on a sofa, where he chatted with friends most of the night. A couple guys from Your Vegas came out to support the band, to which they were very grateful. Even Kathy seemed pleased, sharing a wide grin with everyone. Interestingly, Ethan continued to sleep. Eventually, the guys got hungry and decided to disperse for nourishment. Overall, this one little show in a corner of the big city turned out to be a rousing success.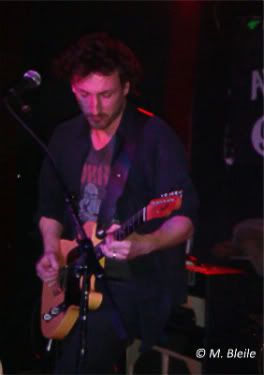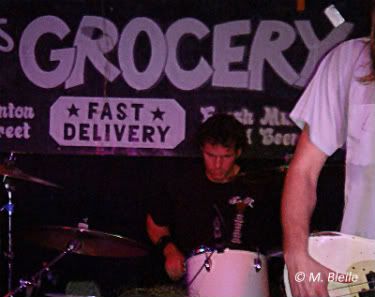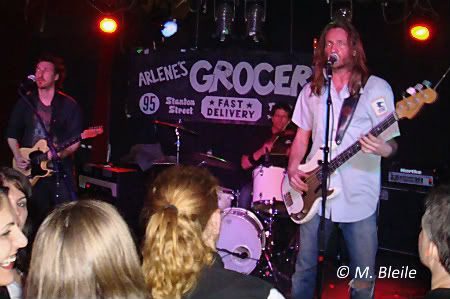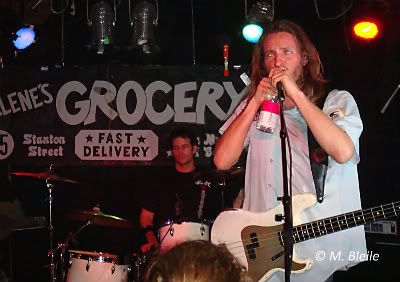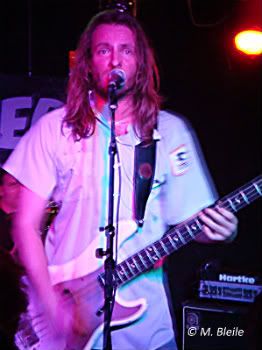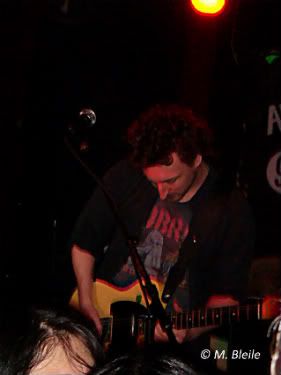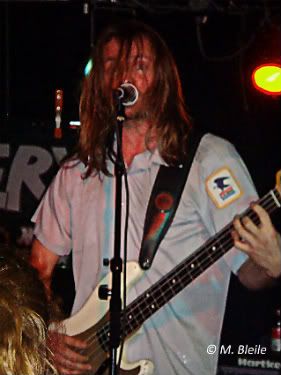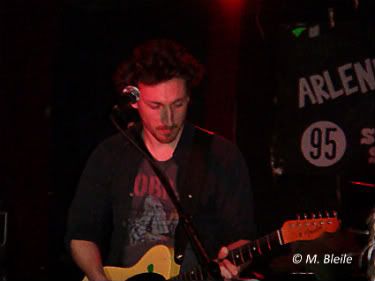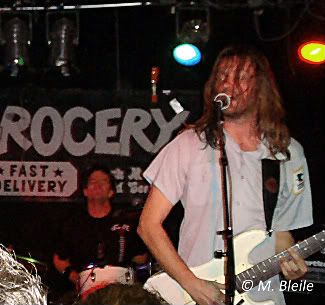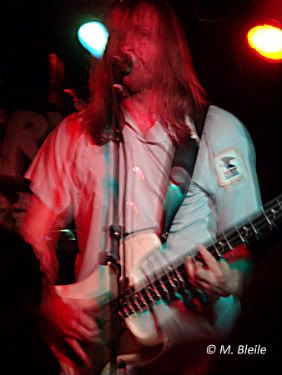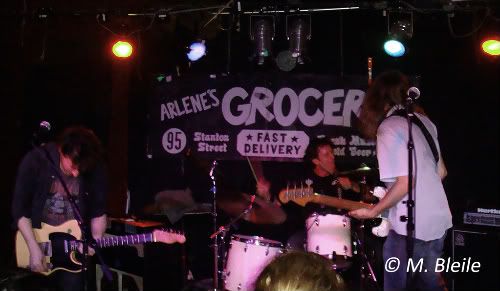 ------------------------------------------------------------------------------------
02 Mar 09 Note: I moved the post with the videos here so they could watched more easily.
A few youtube videos have started to pop up from the gig. Not the best audio or video but cool just the same!
Denied
Put on Your Shoes & Beginning of Sadr City Blues
Zero
Contagious
Cut the Brake
Two Sisters
youtube videos filmed by LedSpurs and kizzymoon.